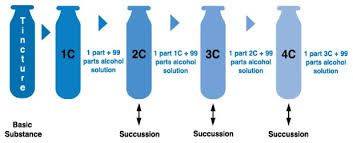 On the Importance of Dose
Brenda, a 40 year old mother of two, had taken the homeopathic remedy Sabina for a profuse menstrual period with heavy hemorrhaging of bright red blood and dark clots.  During her initial case, I had originally assessed her sensitivity level as "sensitive," meaning she needed to take an olfactory dose of any of her liquid homeopathic remedies. However, after the first ten days of daily olfactory doses, she experienced a drop in energy, general fatigue, and a dull pain in the liver region (the latter being a chronic symptom that had persisted before she had developed the menstrual symptoms).
She discontinued the remedy because of the aggravation of symptoms and called her homeopath. The consultation revealed she had taken multiple inhalations a day of the remedy. This was the first time she had taken an olfactory dose, so she thought she needed to take several whiffs to make a dose. She was informed that an olfactory dose constitutes one whiff only and that the aggravation symptoms that persisted even after she discontinued the dose would easily be antidoted with the next higher potency, but a smaller dose of the same remedy. The homeopath also informed her that the recurrence of the old liver symptom was a positive sign of a curative reaction. However, because of the aggravation of existing symptoms, she was concerned that the remedy was not suitable for her. However, when she tried the same remedy in the next higher potency with the new, reduced dose, she felt much better. Over the next few weeks, all of her symptoms resolved.
For more information on the topics of Potency and Dose, please see Mr. Mueller's tutorial Advanced Posology .
Header Photo Credit: Boiron USA