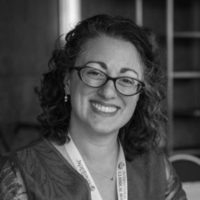 Christina Mueller, C.Hom, MM.Hom
Christina began studying homeopathy in 2004, when she met her husband

Manfred Mueller

– the same year she began an 8 year clinical apprenticeship in his practice. She has played an integral role in helping make further refinements to "Extra Strength Homeopathy," aka, "

The Mueller Method™ of Homeopathy". She began practicing part time in 2012, and full time in 2017.
They say suffering teaches and for Christina, this was no exception. When she came to homeopathy, she was at the lowest point of her life – not only suffering from long term drug side effects and vaccine injury but also from multiple chemical sensitivities (MCS), electro-hypersensitivity, chronic fatigue syndrome, fibromyalgia, chronic constipation, brain fog and gallstones/bile duct disease – a true complicated case! She experienced extensive improvements during her treatment with The Mueller Method™ of Homeopathy. Recovery had many complications due to her inability to properly chelate mercury (MTHFR Mutation), a strong inherited cancer diathesis, her hypersensitivities and birthing five children!
Christina not only emerged from those struggles stronger and more effective than she'd ever been in her life, but also wiser. Her biggest "AHA" moments came from the emotional and spiritual growth emerging organically- directly from the process of healing through homeopathic treatment – rather than as a result of "hard knocks", set backs, traumatic events or illness as had happened to her in the past. Thus began her endless fascination with the ability for both spiritual and emotional growth to happen directly from the improving or regaining of one's health – as can only be done through the intricate, delicate and amazing process of homeopathic treatment! And now that new research is emerging demonstrating that homeopathy positively effects the human genome and can repair DNA, you can imagine just how exciting this healing work is becoming!

Christina is the author of several articles in magazines like Homeopathy Today,Homeopathy and You, and Hpathy.com, and has written dozens of web publications. She and Manfred have five amazing children together. She's been director of The Homeopathic College since 2007, where she also serves as both an instructor and a mentor in

The Mueller Method™.
Other Members